Shebby became our ward after we rescued it from the basement of a multi-storey building.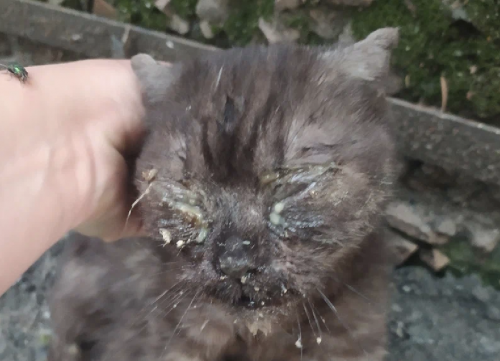 The cat lived in the basement and came out only to eat. As the cat reached the feeding site, it sat away and waited for the rest of the animals to be fed and only then approached the food. The cat was weak and sick, so green flies were planted on it, so the local squeamish people avoided it.
After the cat got to the place of temporary care, it needed special treatment for a long time. For even longer, it tried to adapt to the people and other inhabitants of the house. Scottish and British cats are not distinguished by a friendly disposition and in this Shebby turned out to be a bright representative of the breed. It is not clear whether the breed or character is to blame for this, but perhaps it was because of its temper that Shebby was on the street. Among the mongrel cats picked up on the street, such honorable as Shebby can not be found.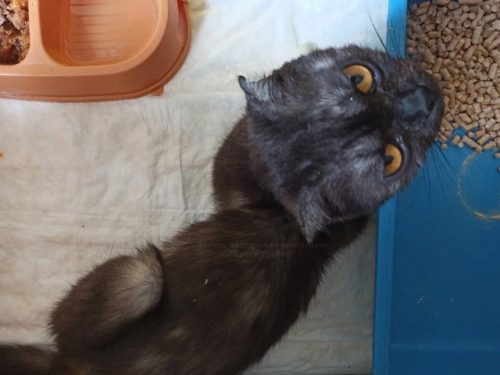 Shebby did not like everything at the place of temporary care: other animals, lack of space, the need to endure procedures, although treatment is rarely painless.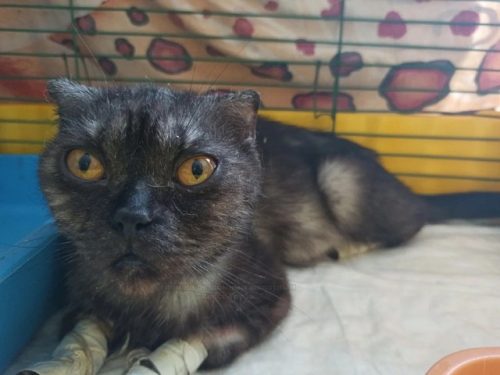 Gradually, the cat gained weight, it grew a new shiny fur. Shebby is a very beautiful cat and depending on the lighting, its coat looks either dark gray or chocolate.
It seemed that it was enough to take a couple of beautiful pictures and there would be a family for a thoroughbred cat. But Shebby doesn't like the photoshoot at all. All attempts to take photos were sabotaged by the cat. Sometimes it just sat there looking like it was the most miserable animal on earth, and more often it just jumped over the photographer a second before the camera clicked and hid until the person with the camera left.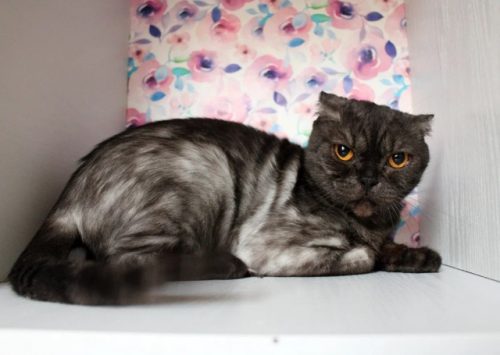 It was not possible to make a successful photo. The hope that someone would look at this beauty in the blurred pictures and want to take it away was not justified.
Shebby has been in the short-term care place for over six months, but it is still unable to find a home.
During this time, the nature of the cat began to gradually change: aggression towards other animals became less, playfulness more.