Natural disasters are one of the most terrible phenomena that humans and animals have to face. At such a moment, you need to find a safe place and hide, but it is not always possible to do this.
In 2020, a flood came to the island of Kyushu. The water came and quickly filled the streets, demolishing people, cars parked on the side of the road, and even buildings on its way. Among the chaos that broke out on the Japanese island, there were only a few relatively safe areas, and on one of them a passerby, hurrying to hide from the elements, took a picture of a cat who was saving her kittens, trying to shield them with her own body.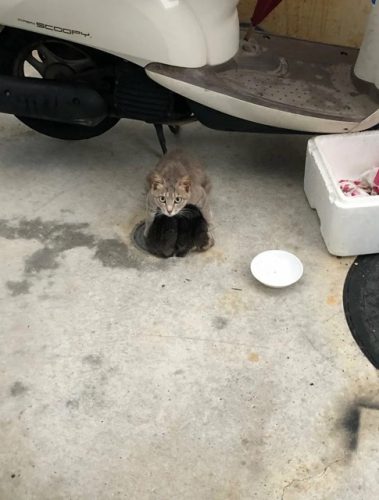 Around the cat and her frightened babies, people were fussing, sirens were heard, and the sound of panic was mixed with the sound of water arriving. The kittens were scared of such cacophony, their mother did everything possible to calm the babies.
When the water went out and the cat's photo went online, it turned out she had many more babies, but she could only save two. All the time the elements raged outside, the animal did not move away from the babies. People hiding where the cat and the children had tried to set up a bunk for her, but the cat did not move and did not even step away from her children for a second.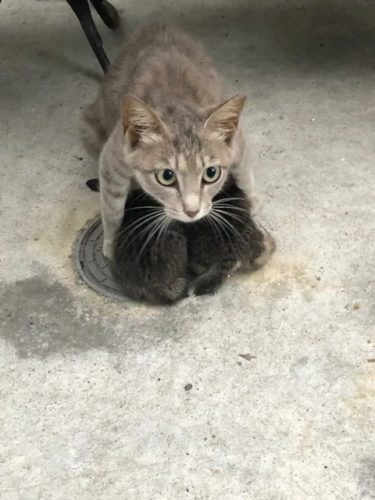 Despite the fact that the situation was frightening, people did not pass by the animals. One of the men was able to hide the mother and the kids. He also posted a photo of how the cat saved her family. As soon as the picture got online, hundreds of people began to be interested in the fate of the cat and her children and wanted to shelter them. When nature changed her anger to mercy, new owners were quickly found for the animals. Let's hope that these animals have already experienced the most terrible event in their lives and then they will not have to cope with the rampant elements on their own.