It is the end of May, the night, lightning flashed on the street and the rain began to drizzle slowly. The whole family went to look for a dog with six puppies, which a neighbor informed us about. After going around the indicated place several times, finally in the dark we noticed a light silhouette of a dog, about five meters from the roadway. Once she was white, but now she was standing skinny in a big dirty puddle, and a chain was jingling around her neck. When she saw us, she immediately started wagging her tail, as if we had known each other for many years.
I lit a flashlight and I saw an old booth that was rotten. It was standing in a puddle and it felt like it was about to fall apart. The dog-mom was sitting tied with a chain.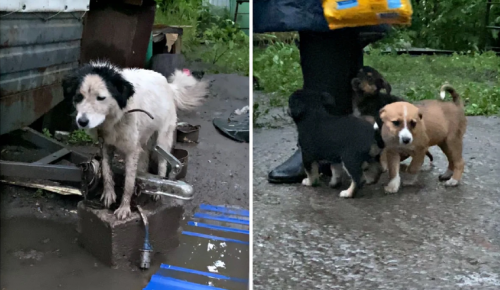 As soon as I got closer, skinny and small puppies began to rub against my legs, running out of nowhere. It was later that we realized that they were sheltering from the rain under a pile of metal because the booth is too small, damp, and with a punched bottom. Here's what it looked like: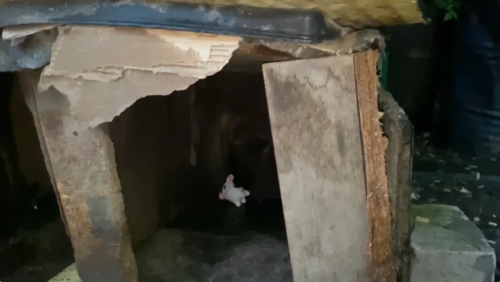 We were speechless at the sight of this pathetic picture. There was no food or water near the booth. The mother dog jumped joyfully at the sight of us and licked our hands. Apparently, she realized that we had come to help her. Meanwhile, the puppies tried to steal the package, which smelled of food. We hurriedly started feeding everyone.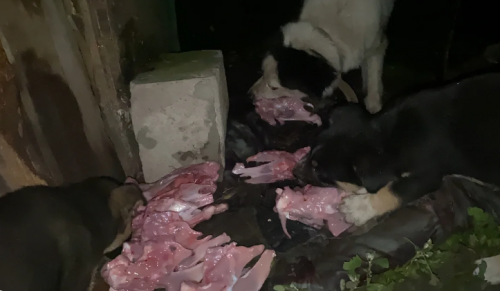 How hungry they were, it is impossible to convey in words. It felt like they were seeing food for the first time. I've seen a lot of animals in various situations, but I was just amazed at how they ate. It's like the last time, or the first time. Pieces of chicken breast were swallowed immediately without chewing, liquid food flew away in a second, we did not have time to open new packs in time.
In short, it was all very hard to watch. All the puppies are wet, dirty, but happy that someone paid attention to them. Probably, if I didn't have a lot of animals at home, then I would just take this whole family to myself, because it was unbearably hard to leave them in such conditions. It is impossible to approach the booth, there is mud and water everywhere, and some kind of damp rag inside.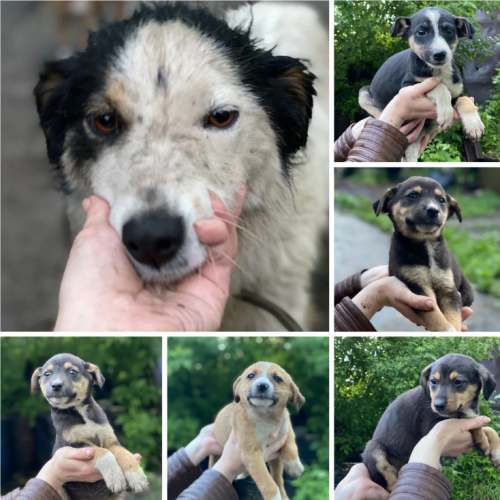 As we learned from the guards of the organization, on the territory of which the whole dog family was located, the mother dog is engaged in « guarding » the car wash and they are not going to give it away, but we need to find a home for puppies. So it turns out this: the dog has to protect something or someone, but no one owes her anything.