Mario Rodriguez is a truck driver who decided to drive 4506 km to save the life of a pit bull who was going to be euthanized if he could not find a home soon. From the moment the two met, an incredible bond arose and now they are inseparable, the dog even accompanies him on his trips.
Mario Rodriguez works as a truck driver in Georgia and feels a great connection with pit bulls, so his wife told him that two-year-old Hickory had been listed on the euthanasia list of New York Animal Care Centers shelter, he did not hesitate for a second, brought the dog back to life.
Mario said:
« I told my wife: « I have to go after him. I'm on a mission to save this dog. » »
Mario decided to talk to his employer, and they helped him plan a route to New York to meet Hickory. He called the shelter to inform them that he was going to take the dog and was on his way.
Mario said:
« I drove through traffic jams and called the shelter every day, and on the third day they found out my number. They said, « He's still here, Mario, he's still here!  »
It took six long days to finally get to know his new dog.
Mario said,
« I parked my truck and ran into the shelter. As soon as Hickory saw me, he jumped out to meet me. I said: « That's it, my friend! We're going home! « He started wagging his tail, going crazy. He immediately started jumping on me, licking my face.  »
Without a doubt, the connection that arose between them was magical, they were destined to meet.
Mario added to The Dodo :
« He seemed to be waiting for me. It was so weird. We had an instant connection. I've never had a dog in my life that became attached to me so quickly. »
Mario filled out all the adoption paperwork and they quickly set off on their way back; the dog was agitated and jumped into the truck.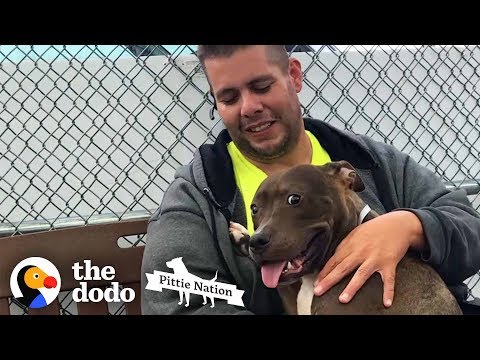 Hickory now has two pit bull brothers, Cooper and Angel, at first he seemed a little shy, but after a few minutes they started running and playing.
Hickory has a mild respiratory infection, but he has already begun treatment. He is very happy in his new home.
Mario not only saved Hickory's life, but he also plans to create his own rescue center for pit bulls as soon as he leaves his job as a truck driver in about five to six years.