That day, a friend called me and, breaking down into sobs, told me that in the veterinary clinic where she went with her dog for an examination, there was a puppy that the veterinarians were going to put to sleep at the end of the working day or rather about seven o'clock in the evening, and the clock was already showing half-past four.
I asked why, is it seriously ill with something?
A friend of mine said no, that the puppy was perfectly healthy, except for a little limp, they just didn't need it.
They left it in a special room where animals usually wait for their fate. How evil I was then can never be described:
« So did you take it from there or not?! »
« I didn't take it, I don't have a place. What should I do? »
I told her to go back to the clinic and pick up the puppy from there. While Rita was on her way to the clinic, I asked a friend to take the puppy to her for a while, and she agreed when I told her about the situation.
I just couldn't leave it like that, so I called the vet:
« Do you really have a puppy who was sentenced to euthanasia? »
I was answered with a laugh:
« Well, yes! »
« How is that possible? Are there any indications for euthanasia? I worked in a veterinary clinic myself! You are doctors, your duty is to save, not to execute, especially healthy ones! »
« And what will I tell my superiors? Did someone leave us a puppy? Where should I put it? »
I realized that the conversation doesn't make sense. I told the employee that we would take the puppy away so that they wouldn't touch it.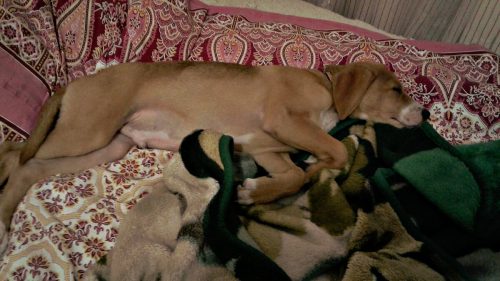 Exactly two hours before the doctor's sentence was served, we took the baby. It turned out to be very beautiful. But with the saddest look in the world. Maybe a staff terrier with a little mix.
The baby was very glad that it was allowed to sleep on the bed and even covered with a blanket.
And a couple of hours after my announcement on the social network, a good family responded.
They took the puppy to themselves and created the most decent conditions for a happy life. Its paw was treated in a clinic where animals are not sentenced to death.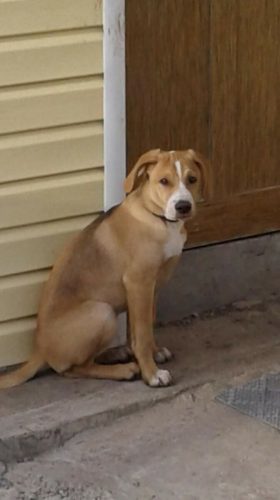 The puppy has grown up to be a real handsome dog, whom the family loves very much. It lives in the house and sleeps on the bed. The owners love it and often send me pictures of the dog with the good fortune.