Lori Wolf, an amateur photographer who lives and works in the United States, is distinguished by a reverent attitude to animals. In her yard, she made small houses for nesting birds and recently noticed an owl in one of them. The woman was sure that she would soon be able to see the newborn owls, so she was very surprised when a duckling appeared in the nest.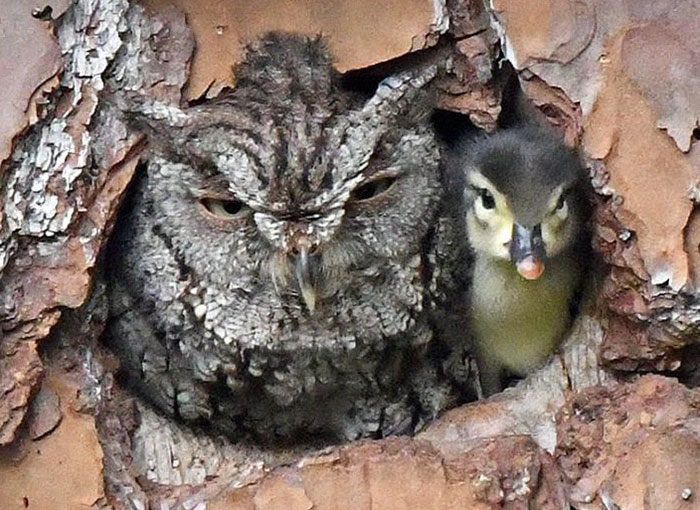 A fluffy yellow chick was squeaking, hiding behind an owl, and it was diligently warming the baby, taking it for its chick. The cute picture still caused Laurie fears: owls are birds of prey and noticing the substitution, the owl could not just stop taking care of the baby, but also eat it. The woman's fear was confirmed by a specialist in the field of ornithology.
Lori decided to give the duckling to the care of the staff of the nearby nature reserve, but efforts to catch it were in vain. The chick escaped from people, got to the water, and after a while returned to its mother-owl. After a while, the duckling moved into a separate house, one of those that Lori had arranged, and even called other ducks there.
How the duck egg turned out to be at the owl is not completely clear. Lori says that shortly before she discovered the unusual couple, the predators attacked wild ducks located nearby. Perhaps, saving their future cubs, the ducks left an egg in the nest, and the owl simply decided that it was its egg…